Today in our Move With Music program, we explored art and music with books, dance and crafts! Our next Move With Music session will be open for registration on October 5th at 9am! Check our calendar for more information.
Here is your take home version of today's activities….
Then make your own art that you can dance with!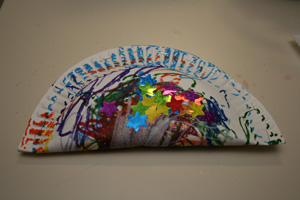 Paper Plate Shaker Craft
1. Take a paper plate and fold it in half
2. Add some dried beans–a small handful will do
3. Staple the rounded edge of the plate to keep the beans in
4. Decorate! Add streamers, stickers or glue on some buttons. Color your shaker and get ready to dance!
Dance!
Use your shaker to dance and pretend you are a bird! Shake your tail feathers and scrape for worms. Pretend to build a nest and don't forget to flap your wings!
Tags: arts and crafts, Move with Music